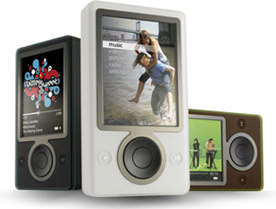 When the
Zune
was launched in mid-Novemeber 2006,
Microsoft
set a hopeful target of one million sold before June 2007. According to the company's recent quarterly financial reports, Zune sales surpassed that target and surely Microsoft is very excited by the sales.
For the period ending June 30th, over 1.2 million of the players have been sold, which is equal to about 170,000 units per month. If the units continue to sell at that pace the Zune should reach 2 million sold before the player's one-year anniversary.
Although
Apple, SanDisk
and
Creative
continue to heavily outsell the Zune, Microsoft must be proud of the market penetration the Zune has produced over the last few months. The company even proclaimed that the Zune had 11 percent market share for players with hard disks during May.
A second-gen Zune is expected to hit retail stores later this year.
Source:
MacNN