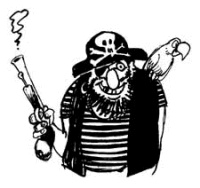 According to China's state run media, the production lines used to create pirated DVDs are imported from outside the country and run by highly secretive gangs.
The statement comes after Chinese and US officials dismantled a multi-billion dollar
software piracy operation
in China.
"Illegal production lines are the source of pirated discs and to seize these lines can effectively wipe out pirated discs in China," Chinese police official Xu Hu was quoted as saying by the Xinhua news agency.
But "most of the illegal production lines are smuggled from overseas and some were using edge-cutting technologies," Xu added. "The lines are clustered in the developed coastal regions of China and most are hidden in dark rooms and even caves."
According to Xu, Chinese police have shut down 231 production lines since 1996, but since no details were given regarding the number of operations still believed to exist, it's hard to determine how much difference that's made.
The Chinese are generally considered the world leaders in copyright infringement, with the majority of all DVDs and software sold in the country being pirated.
The high amount of piracy in China is also a cause for concern among some consumer rights activists because data on commercial infringement is often cited as an indictment of those who oppose
DRM
measures.
Sources:
Reuters
,
Townhall.com