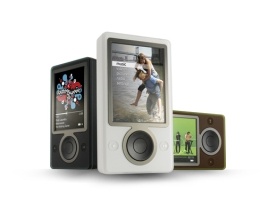 Microsoft hasn't divulged detailed plans for the next release of its Zune music player, but a company executive last week offered hints that seem to support reports that a flash memory-based Zune and an 80GB device could be in the works.
At its annual financial analyst meeting last week, Robbie Bach, president of Microsoft's Entertainment and Devices Division, said Microsoft plans to "broaden" the Zune brand with new styles, capacity sizes, and price points as well as new features, though he did not reveal the timing of releases or exact product specifications.
Several device-centric blogs, including Zune Scene, Whiz Byte, Gadgetell, and others reported that an 80GB Zune code-named Scorpio and a flash memory-based Zune code-named Draco are currently in the works.
Zune Scene also has reported a production snag that could delay the release of the Scorpio device. According to a post on the blog late last week, the production schedule of Scorpio has been delayed due to problems with wiring. The blog also said that production on Scorpio was expected to be completed on Aug. 31 but has now been pushed back to September.
While Microsoft publicly remains optimistic about Zune's ability to compete against the iPod and other
MP3
players, sources close to the company report that some inside Microsoft feel that Zune should be scrapped because it is not worth the company's investment. Microsoft said it has shipped more than 1.2 million Zune units since the product was released in November 2006, but consumers still overwhelmingly prefer Apple's iPod devices as their choice of multimedia player. Apple sold 9.8 million iPods in its quarter ended June 30th.
Source:
Yahoo News