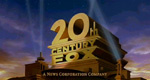 The
Fox
police drama was available online before it's broadcast premier in September.
It's available without commercials for a limited time on the
Fox
,
AOL
,
Yahoo
,
TV Guide
, and
IGN
websites. Those portals are all involved with the still unnamed venture by
NBC Universal
and
Fox
owner
News Corp
.
TV shows offered for
Streaming
online directly from television networks are becoming fairly common, but this is the first time a major series premiere has gotten a preview this way.
Earlier this summer, though, several fall television pilots were leaked to
P2P
networks.
Source:
Yahoo News