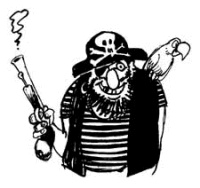 Eli El of Blue Island, IL was sentenced to 30 months in federal prison for participating in a conspiracy to distribute pirated software on the internet.
In May El plead guilty to one count of conpiracy to commit criminal copyright infringement for helping distribute around 20,000 copyrighted works online.
So far Operation Safehaven, a 15 month investigation by U.S. Immigration and Customs Enforcement, has managed to get 12 convictions, including that of El, from the execution of more than 20 search warrants across the country according to the Department of Justice.
The U.S. Attorney's Office reports that El and his associates were active in the
warez
scene, and had privileged acces to a number of FTP servers hosting pirated software. They say in return for uploading illegal software he was allowed to download software pirated by other members of the warez group.
Source:
Information Week