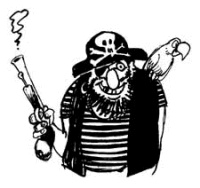 In an effort to crush 14 piracy release groups, 200 police officials took part in a huge raid on Thursday, one that spanned through Germany and France and saw the sweeping of over 50 homes and office buildings.
Release groups are the usual starting point for distribution of pirated games, movies and TV shows.
The
GVU
, Germany's organization that investigates intellectual property violations, said in a statement that the release groups had put at least 200 movies and 100 pieces of software into illegal networks and that many of the movies were not even released in Germany yet. English versions of the DVDs were taken and dubbed by the groups, said the statement.
The GVU also said during the raid 60 PCs, 2000 DVDs and CDs and servers as well as HDDs were confiscated.

"This proves once more the correctness of our strategy in concentrating on the tip of the illegal distribution pyramid,"
GVU chairman Christian Sommer said.
"Today's raid will have a decisive impact on the release group scene, where pirated copies are first created."
Source:
HR