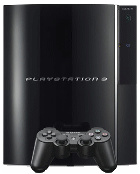 Following yesterday's official announcement by
Sony
that a 40GB
PlayStation 3
would be offered for £299 in the UK, Nick Sharples, director of corporate communications for Sony Europe, said that the 60 GB model would be going the way of its American counterpart, into oblivion.
Just like in North America, the 60GB has stopped being produced and when the current stock is depleted, that is the end of that model in the UK. The 40GB model will then be the only unit available for purchase in the UK. The new model however, lacks a multi-memory card slot and PS2 backwards compatibility which could presumably be an issue for some potential buyers.


"We are looking forwards, not back,"
Nick Sharples said
"It was clear when Sony first launched the PS3 in the UK that backwards compatibility as a feature was an issue, it's now becoming less and less important."
When asked how much stock was left, Sharples would not give an exact number but figured there was 2 to 3 months of stock left.


"Anyone who wants to buy a 60GB PS3 for Christmas is not going to have a problem",
he stated.
What is still unclear is whether a new model will replace the 60GB SKU or if the 40GB model will remain as the sole SKU available in the UK.
Source:
Pocketlint