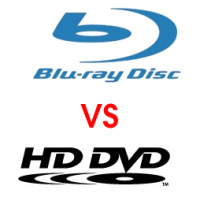 A new
NPD Group
study indicates a promising future for next-gen video formats, but only if a single format is available at a lower price than players currently sell for.
More than 65% of all respondents to the survey indicated no plans to buy either a
Blu-ray
or
HD DVD
player. The single most common reason cited was high player prices. Nearly as many people said they see no need to replace their
DVD
player and library of movies, and 60% are happy with the hi-def movies from satellite or cable. More than half said they're waiting for a single format to invest in and will wait for
Resolution
of the war between Blu-ray and HD DVD. Just over 10% indicated they're extremely likely to buy a player.
Russ Crupnick, VP and senior analyst with
NPD Entertainment
, cautioned that the rate at which early Blu-ray and HD DVD customers are replacing their DVDs is likely misleading for projecting typical consumer behavior. He said
"Once you get to the mainstream consumer, we're not sure they're going to be all that anxious to replace their libraries."
However, he still expects hi-def disc formats to eventually catch on, although he cautions
"without improving the benefit proposition and probably driving down hardware prices even more it's going to be a longer haul than we'd probably like."
Source:
Home Media Magazine