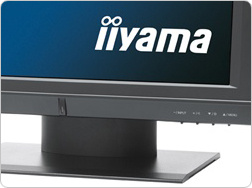 Iiyama
has announced that it is launching a new lineup of touchscreen
LCD
monitors for desktop PCs.
The lineup will include the
ProLite
T1530SR, the T1730SR, and the T1930SR, at 15, 17 and 19 inches respectively. All of the monitors connect through either
VGA
or
DVI
and support RS-232 and USB for the touchscreen interface.
The ProLites, which are compatible with Windows and Mac systems use a full screen
4:3
Aspect ratio
and and come in either a black or white bezel.
The smaller model has a slow 16ms response time and a relatively low 1024x768
Resolution
but the 17- and 19-inch versions have 5ms response, and a resolution of 1280x1024.
The 15-inch model will sell for £330 ($700 USD), £350 ($750 USD) for the 17-inch model, and £400 ($850 USD) for the 19-inch unit.
Source:
Electronista