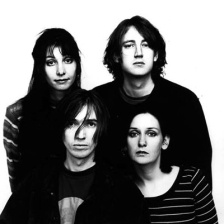 The band My Bloody Valentine is planning to promote their upcoming reunion by releasing new material on the internet, bypassing the use of a music label.
"The plan is that they will release the album themselves via the Internet, but there will also probably be a vinyl release,"
the band's London-based manager, Vinita Joshi, said. He added that they don't have any plans to use the "pay what you want" model being used by Radiohead to promote their new album.
Although no official numbers have been released for the Radiohead downloads, at least one market analysis firm estimates the revenue has been less than what the band would have made in royalties per
CD
. Of course that doesn't take into account how many consumers downloading the album would also have purchased it.
"At the moment, all I can say is that Kevin is getting the band back together and they will go into the studio next month to work on the new record,"
Joshi said, referring to notoriously reclusive singer/guitarist and bandleader Kevin Shields.
Source:
Reuters