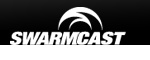 Last week
Swarmcast
released a set of tools designed to make
Streaming
Flash video a smoother experience for the viewer. The new software, Autobahn HD for Flash, takes advantage of
P2P
technology to distribute a single stream from multiple sources, and at varying quality levels.
Autobahn works by starting each stream from multiple locations. A client computer running
Swarmcast's
own Flash player can download small pieces from each source simultaneously, which are then re-assembled into a video stream for viewing. If the same video is available in a variety of quality levels, the player is designed to automatically switch to the highest quality available at the current connection speed. The idea is to ensure that when the connection fluctuates the video isn't interrupted.
"We're focused on working to turn the Internet ... into a truly viable alternative to cable and satellite TV,"
says
Swarmcast
chief executive officer Justin Chapweske.
Although it uses P2P networks for distribution, that doesn't mean content will be stored on customers' personal computers. All streams would still originate from servers run by
Swarmcast
or another company licensing the technology. For a
Limited
time they're offering hosting on their servers free in the hope of attracting clients.
They're also releasing the player source online, hoping that third party developers will customize it to their own operations
Source:
Technology Review