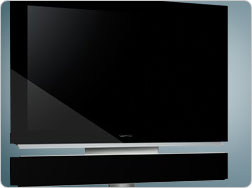 The Danish luxury
HDTV
maker
Zepto
has announced that their latest
Helios LCD
sets will come with a "built-in wireless media center that picks up nearby Windows XP Media Center or Vista Home Premium computers on the local network, allowing the TV to stream video or other content without a separate
Set-Top Box
." All you will need is the bundled TV remote, says Zepto.
The new Helios sets will come in the 32-inch and 40-inch varieties.
A
DVB-T
(Freeview) tuner is standard for picking up over-the-air HD broadcasts, "as are dual analog tuners for capturing both airborne and land-based conventional TV."
Each set has a static 2000:1 contrast ratio and 8ms pixel response time. The 32 inch model has
720p
output capability while the 40 inch can output full blown
1080p
.
Zepto only sells in Europe, but the TVs have USD equivalent prices of $3,084 and $3,855 respectively.
Source:
Electronista