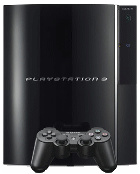 Early last week it was
reported that Best Buy would no longer be carrying the 80GB model Sony PlayStation 3
due to a discontinue in supply. If the memo is true and applicable to other North American retailers than that will mean that only one model of the PS3 will exist in the North American market, the BWC-crippled 40GB version.
An insider has said however
that a new model could be coming, and soon.
"Sony is, in fact, phasing out the 80GB PS3. Sony is going to stay with the two-SKU approach though, and the prices look to stay the same,"
the source said.
"The Spiderman 3 pack-in will disappear as well once the 80GB unit is gone. In order to maintain a similar value proposition to the 80GB/Spiderman 3 bundle, I expect to see a storage increase to 120 or 160GB at the same price point, plus the new Dual-Shock 3 controller..."
In response to the posting of Best Buy's memo, a
Sony
spokesperson gave an official "no comment".
"I caught up with all of the posts and news last night, and as you know, we don't comment on rumors and speculation," he added