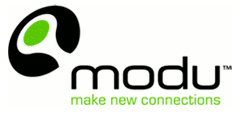 A company in Isreal called
Modu
will be partnering with wireless carriers
in three different countries
to sell a new modular phone design. The phones will consist of a rudimentary phone meant to be used with "jackets" which provide additional functionality like text messaging and music playback.
The core phone unit essentially acts as a peripheral to add a mobile phone connection to the jackets, which will initially just provide standard features like text messaging and cameras.
Universal Music Group is reportedly considering
using
Modu
jackets to promote their artists, although no details of their plans are available at this time.
The initial model will be limited to using General
Packet
Radio Service (GPRS) for data transfer.
GPRS
is only capable of data transfer at speeds approximately equivalent to a dialup modem. A 3G version, which would be able to make use of the much faster
High-Speed Downlink Packet Access
(HSDPA) technology, is said to be in the works. According to
Modu
founder and CEO Dov Moran the 3G version will remain compatible with jackets for first generation phones.
Moran is better known as the inventor of the USB flash drive. He sold
msystems
, the company that sold his original flash drive, to
SanDisk
in 2006, before founding
Modu
.
Modu
's phone core could also be docked in other devices. The company is currently in talks with GPS and car audio manufacturers, hoping to get support for their phone core in hardware from brands like
Magellen
and
Blaupunkt
.
The Modu phone will be available at the beginning of October from
Cellcom Israel Ltd.
,
Telecom Italia SpA
in Italy, and
OAA Vimpel Communications
in Russia.