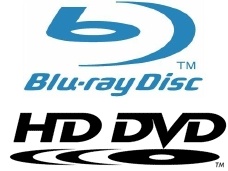 In what can equate to an "I told you so", director Michael Bay has spoken out again
about
Blu-ray
and its recent "victories" over the rival
HD DVD
format.
Earlier this week,
both Netflix and Best Buy
seemingly chose
Blu-ray
as their
HD
format of choice although Best Buy said it will continue to stock both. Bay, taking the time to knock
HD DVD
had this to say at the Visual Effects Society's sixth annual award show,
"Blu-ray's better, and I told everyone ... I was very vocal about it. I knew HD [DVD] was not going to make it."
Ironically, despite his support for Blu-ray, his best selling HD
Title
is far and away
Transformers
which is available on HD
DVD
.


"Am I thrilled? It really wasn't my fight, but remember what I said in the press? I was kind of saying HD [DVD]'s going to lose,"
he added.
"No one believed me."
Despite the fact that both formats support the same video and audio codecs and each have excellent interactive layers, Bay says he simply prefers the way his movies appear on Blu-ray Discs.
"It's just sharper,"
Bay added.
"It's just [that] the tools are better. I just think it's closer to what it should look like."
This is not the first time Bay has talked about
his preference for Blu-ray
. He first voiced his displeasure with HD DVD when
Paramount decided to go HD DVD-exclusive, and taking Transformers with it.
Bay even went as far as to say that he would not come back to direct Transformers 2 as a boycott to the decision.


"I want people to see my movies in the best formats possible. For them to deny people who have Blu-ray sucks! They were Progressive by having two formats. No Transformers 2 for me,"
said Bay back then.
The director than retracted his statements however, saying
"As a director, I'm all about people seeing films in the best quality possible, and I saw and heard firsthand people upset about a corporate decision. So today I saw 300 on HD, it rocks! So I think I might be back on to do Transformers 2!"
More interestingly though, Bay
accused Microsoft of confusing the consumer
by backing HD DVD. He believes that Microsoft is only backing the format because it will confuse the consumer into giving up physical media and moving onto HD digital downloads.