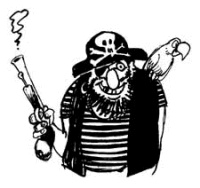 It turns out the British government isn't actually
considering a three-strikes plan
for dealing with internet pirates.
According to Andy Burnham
, culture secretary, suggestions to force ISP disconnection of repeat copyright violators was never in the proposal. But don't start thinking British ISPs are off the hook for their customers' piracy though. The actual recommendation before Parliament suggests a deadline of April, 2009 before the government would step in if a significant decrease in online piracy in the country hasn't been realized.
For the same reason British ISPs are saying they can't comply with the government's request though, it will be problematic at best to write legislation that would allow ISPs to inspect all the packets going to and coming from customers because of the European Union's strict copyright laws. In fact, despite lawmakers' assertions that such legislation will certainly come if they don't feel ISPs are doing their jobs, the people who would be responsible for writing it don't even seem convinced it can be done. They cite "difficult legal issues" as the problem.