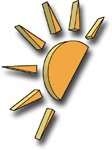 AfterDawn.com
is one of those websites that has been multilingual right from the very beginning of the site. Since when our site was launched back in 1999, there has always been two editions available -- one in English and one in Finnish. Now, a third language edition is finally available --
Swedish version of AfterDawn.com
went "live" today.
The Swedish edition is rather limited for now -- we decided to focus our translation efforts on handful of site areas first and see whether there's enough interest to extend the localized offering to news and guides. So, the "mini AfterDawn" available in Swedish now consists software downloads, product comparison engine and discussion forums.

Swedish AfterDawn is still very strongly in its "beta" phase and is bound to have translation errors, missing translations and even some bugs. Thus, if you're interested to help and speak Swedish fluently, please submit all bug reports and translation corrections to us.

I'd like to thank all of our users who have participated to the translation project -- Helmer, okse and many others have contributed enormous amount of their time and dedication to the project. Lets hope our Swedish users (we have almost 10,000 Swedish members on our English site) "find" the site.