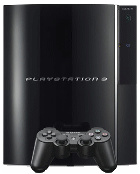 At its annual retail and publisher conference
Sony America has announced
that new
PlayStation 3
and
PSP
bundles will be hitting retailers beginning in April.
They company also announced that the
wireless DualShock 3 controller
will finally be available in North America starting in April for the MSRP of $55 USD.
The first new bundle will include the 80GB model, a DS3 controller and "Metal Gear Solid 4: Guns of the Patriots" for $499 USD.
In June the company will be releasing a special limited-edition
PSP
bundle that will include "a copy of the God of War: Chains of Olympus PSP game and a "deep red" coloured PSP handheld with a silk-screened image of Kratos on the back of the unit. The
Pack
will also include a
UMD
of the movie Superbad as well as a PSN voucher to download Syphon Filter: Combat Ops." The suggested retail price is $200 USD.

"Working closely with our retail and publishing partners and sharing our hardware and software roadmaps at Destination PlayStation gives us a great opportunity to outline some key milestones for the year,"
said SCEA CEO Jack Tretton.

"In response to incredible demand, we will be manufacturing more 80GB PS3s for North America and the Metal Gear Solid 4: Guns of the Patriots 80GB PS3 bundle is an ideal way to offer that continued value to our consumers.

"With Blu-ray having won the format war, our stellar software line-up and a broad product portfolio, we will continue to drive the incredible momentum we've been generating since last fall," he added.