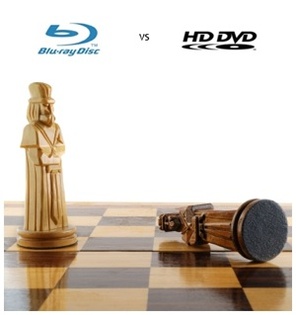 Things aren't looking too bad in the
High Definition
front for early
HD DVD
adopters or other
HD
enthusiasts. In the wake of Toshiba's announcement to drop HD DVD a number of lucrative deals have surfaced.
Most notably the prices of the
HD DVD players
have plummeted. You can now get, for example,
Toshiba HD-A3 + two movies for as little as $79.99
, which is rather ridiculous for a player with an excellent upscaler. For people with an existing DVD collection, HD capable display and no
upscaling
DVD player, the deal is quite tempting.
Even though the format will most likely fade away by the end of the year, there's still plenty of HD DVD movies available - often at bargain prices. For instance Amazon offers
The Bourne Trilogy
(The Bourne Identity / The Bourne Supremacy / The Bourne Ultimatum) at an incredible price of
$29.99
. That's almost $60 off the list price.
DeepDiscount.com
offers HD DVD movies from $9.98 and
HDScape
is dumping the HD DVD versions of their high definition demo videos at $6.95/each or $39.95 for the bundle of 8 discs.
Time to replace those old DVD versions with HD DVDs while I still can!
---
Get regular news updates from AfterDawn.com by
subscribing to our RSS feeds
using the
Subscribe
button below. If you have been living in a cave for a few years now and don't know how to use RSS feeds, then
Click Here to read a Guide on how to use RSS (and other) feeds
.