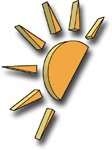 As part of our continuing effort to keep up with current technology, we're pleased to announce the addition of two new guides. The first is an introduction to Haali Media Splitter. If you're not familiar with this program, it's used to add support for the
MP4
,
MKV
,
Ogg
, and TS containers (file types) to Windows.
The second is a followup to our recent
Video Capture
guides for processing
MPEG-2
TV captures. This guide explains how to
Encode
MPEG-2 captures to
AVC
video, either in a MP4
Container
with
AAC
audio or in a
Matroska
(MKV) container with the original AC-3 (Dolby Digital) sound.
---
Introduction to Haali Media Splitter
Just a few years ago the only multimedia containers most Windows users had to worry about were AVI and MPEG-2 Program Streams. Although a number of other proprietary, and even open source containers have been used, for MPEG-2 or MPEG-4 (ASP) video AVI and MPEG-2 PS (.MPEG / .MPG) files have traditionally been the standard. With the development of MPEG-4 AVC (H.264) video the MP4 and MKV containers have been slowly replacing both for a variety of applications.... (Read More)
Convert MPEG-2 Captures to AVC with Super
In recent years the video Capture landscape has changed significantly. With the availability of high quality hardware based MPEG-2 encoding and digital TV (DTV) capture cards its become possible for even a complete novice to get high quality captures. At the same time, MPEG-4 AVC (Advanced Video Coding) is slowly taking over as the new standard for consumer video. AVC has also become a popular format for storage and computer-based playback.... (Read More)
---
Later this week I plan to have at least one more guide completed. It will be for ffdshow, a package of
DirectShow
filters which uses code from the ffmpeg project to
Decode
, and sometimes encode video and audio.
We're always looking for ways to improve Afterdawn. If you have any suggestions for new guides or improvements to our existing content please let us know.