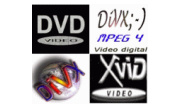 Over the last month I've been working on a number of MPEG-4
AVC
related guides. Devices from mobile phones to
Blu-ray
players, and numerous others in between the two extremes, are designed with AVC video in mind.
One of the most popular AVC conversion tools available is AutoMKV. In addition to its price (free), the high level of automation which allows even novices to produce high quality AVC video, makes it worth considering if you don't want to spend a lot time figuring out how it all works.
If you'd like to convert your movies from
DVD
to AVC with AutoMKV you should take a look at our new guide on
Encoding From DVD to AVC with AutoMKV
.
If your source video is
MPEG-2
video from either analog or
DTV
capures you should read our instructions on how to
Convert MPEG-2 Captures to AVC with AutoMKV
.