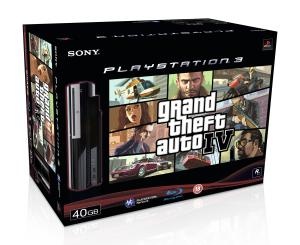 GTA IV
is sure to be the biggest title to ever hit the
PlayStation 3
when it is released next week, and
Sony
definitely knows this. With that in mind
they have officially announced
a system bundle that will
pack
the game along with the 40GB model of the system for European and Australian customers.
"We are delighted to offer the millions of PS3 and GTA fans the ultimate gaming package," said David Reeves, president of Sony Computer Entertainment Europe.

Those expecting to receive the new DualShock 3 controller with the bundle will be disappointed however. Each bundle will include only one SIXAXIS controller. Even more disappointing is the fact that Australian buyers will have to purchase the controller separately for the shocking price of AUD$99 ($92 USD) if they want it.

The bundle will retail in Europe for €439 and in Australia for AUD$749.95, high premiums compared to American prices.