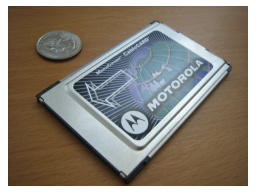 CableCard
technology, which allows devices from televisions to DVRs to decrypt
QAM
broadcasts from US cable operators, has proven to be a mixed blessing for consumers. One of the chief criticisms of the technology is its inability to work with the Video On Demand (VOD) services that have become a standard feature of the cable landscape. This has lead to the development of a more advanced standard called Tru2way, which will allow a new generation of CableCard equipped devices access to VOD and other interactive services. Now
Samsung
has signed a licensing deal that will them to manufacture devices compliant with the standard.
The lack of VOD capabilities in first generation CableCard devices is due to not allowing bi-directional communication. While standard digital cable receivers, like those provided by cable companies, have the capability to both receive signals and send instructions back to the head end (the equipment used to distribute television signals to subscribers), first generation CableCard technology doesn't include any way to transmit the information required to take advantage of interactive services. As a result, the instructions necessary for VOD simply aren't available through the CableCard interface.
As the name implies, the new Tru2way communication standard, expected to be available in as many as 90 million households by the end of 2008, adds the ability to use interactive services including VOD and Pay-Per-View. Licensing program, formerly known as the Open Cable Application Platform (OCAP) is handled by
CableLabs
, a research and development company which is also responsible for DOCSIS cable modem specifications.
D.J. Oh, president of
Samsung Electronics America
,
told This Week In Consumer Electronics
"Tru2way technology offers a better path, in the spirit of openness, to interactive cable services for consumers. We look forward to continued work with CableLabs and the cable industry to bring to market the best in cable solutions."