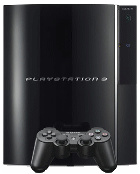 Sony has announced
that it will be introducing dynamic in-game advertising on the
PlayStation 3
in both the UK and the US.
Marketers and companies interesting in having the ads in games are now able to engage "through advertisement distribution partners" and
Sony
announced that
IGA Worldwide
was selected as the PS3's first partner.

"The PS3 platform is primed to leverage the high growth potential of the in-game advertising market",
said Phil Rosenberg, senior vice president, SCEA.

"Ads that are organic to the environment not only benefit developers and advertisers, but also create a richer experience for gamers."
Analysts have said the dynamic advert market will reach $800 million USD by 2012 and it is clear Sony wants a piece.