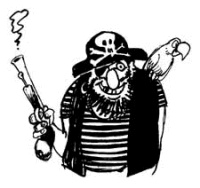 The Frankenthal district court in Germany has thrown out a lawsuit against a suspected unauthorized file sharer after claiming that the evidence used to prosecute him was "obtained in an unconstitutional way".
The evidence was originally obtained by Swiss-based anti-piracy agency
Logistep
, which provided the users IP address to the content owners. The rights holders then used the IP address to begin the criminal complaint. Prosecutors then asked for the user's name from his German ISP and used it to begin the civil lawsuit. That same process has been used to start almost 30,000 similar lawsuits in Germany over the years.
The court has now
ruled
however that the ISP is not allowed to give out the defendant's names because file sharing "doesn't count as a serious criminal offense." That his name and address were handed over violates citizen's constitutional right to privacy, the ruling read.
As there is no common law in Germany the case wont affect the thousands of other alleged file sharers in the same position but the decision should give defendants more leverage if they choose to take the case to court.