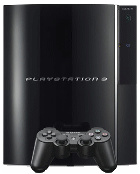 Despite
recently denying they would be cutting the price
on their
PlayStation 3
console
,
Sony
has flipped on that notion and announced at this week's
E3
event that they will begin phasing out the 40GB model of the console while dropping the price of the 80GB model by $100 USD.
The higher capacity model will now retail for $399 USD, taking over the price spot that has been held by the 40GB model for some time now.
Sony's Jack Tretton
says
the company hopes the new price point will
"attract millions of PlayStation 2 users who are on the cusp of upgrading."
The latest decision follows on the heels of
Microsoft's similar decision
, to
phase
out their entry level 20GB model and replace it with a 60GB model.