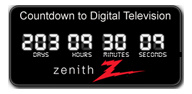 Zenith
has already shipped more than 1 million
DTV
converter boxes to retailers across the US. Today they announced a deal to sell more of their $60 through K-Mart.
"Today, we're pleased to announce that K Mart has joined the list of large retailers now carrying the Zenith DTT901, a remarkable product no bigger than a hardback book that can bring the wonders of digital TV broadcasting even to the oldest of analog TV sets,"
said
Zenith
Senior VP Richard Lewis.
"Sales to retailers have already exceeded a million units at a wide assortment of stores, from national retailers Circuit City and RadioShack to regional dealers such as Fry's, h.h.Gregg, Abt Electronics, Brandsmart, PC Richard, Nebraska Furniture Mart and others,"
Lewis said, adding that production is increasing to meet the growing demand.
With just over 200 days remaining before the mandatory shutoff of nearly all analog TV signals in the US they're also offering a new widget for
Google Desktop
and Yahoo Widgets. Called the DTV Countdown Clock, it's a timer that counts down the number of days, hours, minutes, and seconds until the official cutover on February 17, 2009.