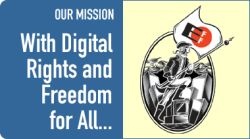 The
Electronic Frontier Foundation (EFF)
has announced the launch of a new software that they say will allows users to keep tabs on their ISPs and whether they are having their
P2P
transfers "throttled."
The new "Switzerland Tool" will probe at the user's network connection to check if the ISP has put any restrictions on P2P traffic.

"Until now, there hasn't been a reliable way to tell if somebody, a hacker, an ISP, corporate firewall, or the Great Firewall of China, is modifying your Internet traffic en route,"
explained
Peter Eckersley, the EFF Staff Technologist who designed the tool.

"Switzerland is designed to make general-purpose ISP testing faster and easier."
The tool follows the recent decision by the
FCC
that ISPs in the
United
States cannot "purposely" restrict any type of traffic. The US' largest ISP,
Comcast
was at the center of the debate when it was found to be throttling/limiting
BitTorrent
traffic.
Despite the recent decision however, the EFF believes the FCC is "ill-equipped" to stop ISPs from disregarding net neutrality laws.


"The sad truth is that the FCC is ill-equipped to detect ISPs interfering with your Internet connection,"
said
Fred von Lohmann, the group's senior intellectual property attorney.

"It's up to concerned Internet users to investigate possible network neutrality violations, and EFF's Switzerland software is designed to help with that effort. Comcast isn't the first, and certainly won't be the last, ISP to meddle surreptitiously with its subscribers' Internet communications for its own benefit."
For anyone interested, the official tool is available here at the EFF website:
EFF Switzerland Tool