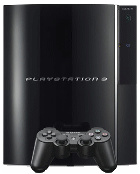 Sony Computer Entertainment Europe (SCEE)
has announced a 160GB PlayStation 3 (PS3) model, which will launch in the
PAL
markets on 31st October for a RRP of €449. The console will be bundled with extra
PlayStation Network
content. The 160GB drive offers more than twice the capacity that current models are sold with.
For those looking to use a PS3 console as a home media center hub, extra storage capacity is important for large amounts of digital content. It allows for increased video, music, and photo storage as well as room to download even more games, game extras, playable demos, and trailers from PSN.
Lower prices and a better game line-up has helped to push the PlayStation 3 (PS3) further along in the console war between
Nintendo
,
Sony
and
Microsoft
. The three are looking to sell the most hardware units and take the biggest chunk out of the multi-billion games market.
Read:
How to upgrade your PlayStation 3 Hard Drive