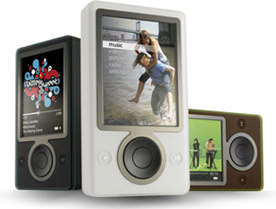 According to a new leak, the next
Zune
update will mainly just offer higher capacity drives with not much else.
The leak shows the official boxes of an updated 120GB Zune, as well as a 16GB flash-based Zune each of which are almost identical to their lower capacity predecessors with the exception of glossy surfaces.
Microsoft did not comment on the leak but did say that the hardware upgrades would be part of "a larger strategy in the fall that includes software upgrades." It is still unclear what these upgrades will be however.
The Zune upgrades come at the same time as rumors swirl about upcoming
iPod
upgrades that will offer completely redesigned iPod Classic and iPod Nano lines.
Picture thanks to
original source here
: