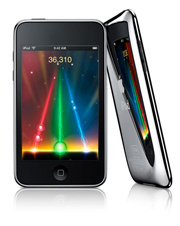 Apple
has unveiled the second-generation
iPod Touch
today at the "Let's Rock" event in San Fransisco and with it comes a few notable updates as well as a price cut.
The media device has a new revised casing that includes stainless steel in replacement of plastic. The casing also gives the device a shape more like the
iPhone 3G
, Apple's popular smartphone. The new device is thinner than the previous generation and includes new volume buttons as well as a speaker which will allow users to hear alerts as well as their music or videos.
Natively integrated into the updated device is the
Nike+
sport system which allows users to measure and record the distance and
pace
of a walk or run. The device has a built-in receiver that will match up with Nike shoe transmitters. The software is also included and already installed.
The interface saw a slight tweak as well, one that follows in the footsteps
of the new iTunes 8
. The interface can generate "Genius playlists" which are based on your favorite music or purchased tracks.
More importantly, battery
life
has been extended 50 percent, to 36 hours for music from 24 for the previous generation Touch. Video will now last up to six hours from the current 3-4.
The prices have also been cut pretty dramatically with the 8GB model now selling for $229 USD, the 16GB for $299 USD and the 32GB now selling at $399.