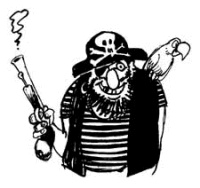 New Zealand has become the first country to adopt a '3-strikes' law for Internet pirates after signing the Copyright Amendment Act 2008 this year. The bill will go into effect on March 1st 2009.
The three strikes law, as previously discussed in France and the UK, would give pirates two warnings before kicking them off the Internet for good on a "third strike." The EU recently struck down a bill calling for the three strikes rule and it appears that opposition is growing in New Zealand as well despite the fact the bill has already been signed.
The section of the act signed into law, 92A reads as
follows
:

Internet service provider must have policy for terminating accounts of repeat infringers
(1) An Internet service provider must adopt and reasonably implement a policy that provides for termination, in appropriate circumstances, of the account with that Internet service provider of a repeat infringer.
(2) In subsection (1), repeat infringer means a person who repeatedly infringes the copyright in a work by using 1 or more of the Internet services of the Internet service provider to do a restricted act without the consent of the copyright owner.
Six industry bodies have already voiced opposition to the law however and it appears that the law may be moving towards a rewording. The law would not be repealed however.