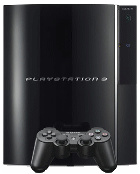 According to a
D+Pad
report citing "insider sources",
Sony
has plans to cut the price of the
PlayStation 3
console this upcoming March, in an effort to be "more competitive."
Sony Europe has so far dismissed the rumor as "rumor and speculation," but Europe president David Reeves is quoted as saying there will be "technical innovations" coming to both the PS3 and the handheld
PSP
.
The same source claims to have seen game footage of both Uncharted 2 and
God of War
3 on the PlayStation 3 as well as gameplay for
LittleBigPlanet
, on the
PSP
. The insider added that studio
Media Molecule
has been working on the handheld port for four months.
Although dismissed as rumor for now, a price reduction in time for the Easter holiday is not all that far-fetched and has happened many times in the past with consoles.