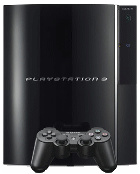 Citing yesterdays disappointing
November hardware sales
,
CNNMoney
has called the
Sony PlayStation 3
a "sinking ship."
The numbers show that the PS3 sold 19 percent less consoles year-on-year from the same period in 2007, and CNNMoney believes that a substantial price cut is necessary if the console wants to see a growth in sales anytime soon.
After being outsold 840,000 to 380,000 for the month by its main rival the
Xbox 360
, many analysts have agreed that a price cut is necessary before the console falls behind by an "insurmountable margin."
The CNNMoney
article
also attributed the slow down in sales to three specific reasons. The high price tag (All Xbox 360 models are cheaper than cheapest PS3), the fact that no one cares about
Blu-ray
, and the lack of strong selling titles for the platform.
We can all agree that price is an issue, but the other two issues CNNMoney brings up are a bit, for lack of a better word, iffy.
Blu-ray
player sales and Blu-ray movie sales continue to grow exponentially and show similar numbers to that of
DVD
when it was the "new" format in the late 90s and early 2000s.
Sony has had some hot selling exclusive titles such as Metal Gear Solid 4,
LittleBIGPlanet
, Resistance 1 and 2, and Uncharted but software sales arent as strong as that of the Xbox 360, from most accounts. Whether it needs more exclusive titles is up for debate however.