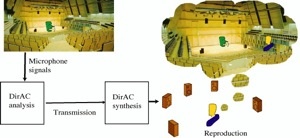 A group of scientists have developed a new audio technology in the
Helsinki University of Technology (TKK)
.
Directional audio coding (DirAC)
technique aims to produce the best possible sound for the listener regardless of how many speakers the sound system has and where the speakers are located. TKK has now sold the protecting patents to a German research organization
Fraunhofer-Gesellschaft
.
The technique is based on Spatial Impulse Response Rendering (SIRR) and would use for example a remote control to measure and determine what kind of speaker setup surrounds the listener. By transmitting audio and metadata between the microphone, the audio system and the speakers it would produce optimal audio quality for the listener. The technology is said to be suitable for teleconferencing as well.

According to TKK DirAC could become the industry standard. The recordings would hold 1-3 channels of audio and metadata. However, the studies are not yet finished.

TKK and its researchers will continue to work on DirAC with Fraunhofer-Gesellschaft.