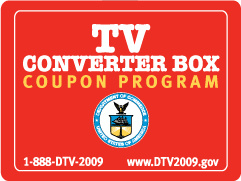 According to a DTV transition regulator, the government coupons that help subsidize the price of DTV converter boxes are going to be hard to come by soon, and he recommends ordering one now.
Rep. Ed Markey, the Department of Commerce official who oversees the subsidy program, added that he expects demand to exceed supply in the next month before the government mandated transition in February.
Congress may also need to "pass additional funds" for extra coupons.
The mandatory switch to digital signals goes into effect February 17th, 2009.
To learn more about the transition and what you will need if you are still unsure, please read this very helpful guide here at AfterDawn:
Preparing for the US DTV Transition