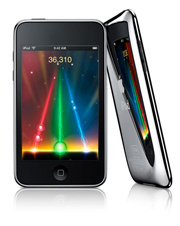 According to rescue authorities, two men lost in the Swiss mountains were able to be rescued thanks to the light from their
MP3
player.
The two men, both from France, "got lost late in the day Friday outside marked runs near the resort of Savognin in southeast Switzerland," added Gery Baumann of the rescue service.
One was able to alert authorities using a cellphone but the phone promptly died.

"The two winter sports enthusiasts were found by the crew of the Rega helicopter shortly after midnight -- thanks to the faint light of their MP3 player,"
Baumann
noted
.
Both men are being treated for mild hypothermia.