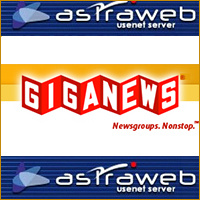 According to
Slyck
, the newsgroup server
Astraweb
has increased its retention to 270 days, hopping over
Giganews
on its way to being the newsgroup provider with the longest retention.
"Astraweb is pleased to announce that we have just completed an infrastructure upgrade to increase our retention and improve our network. Our retention is currently growing towards 270 days from 160 days."

When the provider will actually hit 270 is still in question though, and whether Giganews will respond is kind is a more important question. On Christmas, Giganews confided they were in the midst of a massive upgrade themselves and that new retention times would be "well beyond 240 days."

Giganews currently costs $30 USD a month while Astraweb only cost $15.