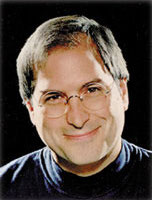 For months
Apple
CEO Steve Jobs has been confronted with questions about his health brought on by obvious weight loss. Earlier this month he decided to clear the air and publically admit he was being treated for hormone problems.
In a statement earlier this month he said "As many of you know, I have been losing weight throughout 2008. The reason has been a mystery to me and my doctors. A few weeks ago, I decided that getting to the root cause of this and reversing it needed to become my #1 priority."

"Fortunately, after further testing, my doctors think they have found the cause—a hormone imbalance that has been "robbing" me of the proteins my body needs to be healthy. Sophisticated blood tests have confirmed this diagnosis."

Apparently though, his explanation wasn't enough to satisfy many people so he's decided it would be in Apple's best interest for him to temporarily give up his duties with Apple and concentrate on his treatment.

Apple realeased the text of an email Jobs sent the company's employees which stated in part "In order to take myself out of the limelight and focus on my health, and to allow everyone at Apple to focus on delivering extraordinary products, I have decided to take a medical leave of absence until the end of June.

I have asked Tim Cook to be responsible for Apple's day to day operations, and I know he and the rest of the executive management team will do a great job. As CEO, I plan to remain involved in major strategic decisions while I am out. Our board of directors fully supports this plan."