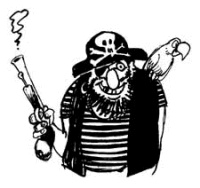 According to a new survey by music consultancy
Music Ally
, many users would completely disregard warning letters from ISPs threatening to shut off their Internet for piracy offenses.
The survey was given to US, UK and French citizens, and published by the research firm
The Leading Question
.
The study also shows that most consumers would prefer to download music legally from their ISPs rather then from their mobile carriers or from their cable providers.
46 percent of those studied chose their ISP as the "ideal music provider" compared to 10 percent who chose their cable or satellite TV company, and 5 percent who chose their mobile operator. An even smaller number, 3 percent, chose handset manufacturers such as
Nokia
or
Apple
as their preferred provider.
"ISPs need to find new added value offerings as their core service of offering access to the Internet becomes increasingly commoditised,"
noted
Tim Walker, CEO of The Leading Question, on Music Ally's Website.


"Music looks like a good bet both for keeping existing customers and getting new ones, particularly if you can bundle in a music service so that it 'feels' free or very cheap."
To the other matter at hand, 41 percent of those surveyed "admitted to using
P2P
services said they would stop downloading unlicensed music if they were sent a warning letter from their ISP." 63 percent said they would stop if they were threatened with having their Internet service shut off.

"While warning letters from ISPs may be enough to sent out an important message to all music fans, the may not be enough to dissuade the real target group of file sharers from downloading music without paying,"
added Paul Brindley, CEO of Music Ally.