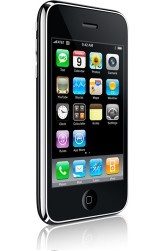 Following
Apple's
Q1 fiscal earnings report last week, it was made clear that the
iPhone
continues to be a huge seller, selling 4,363,000 units for the period, an 88 percent growth year-on-year.
Total iPhone sales for 2008 now stand at 13.7 million.
Apple
began selling its first generation iPhone in fiscal 2007 and then the iPhone 3G in July 2008. The company now offers the media device in over 70 countries and explained that that in its first quarter of availability, 6.9 million units were sold.
CEO Steve Jobs added that company was doing well despite the global economic downturn and expects the company to continue to succeed in the future.
"Even in these economically challenging times, we are incredibly pleased to report our best quarterly revenue and earnings in Apple history—surpassing $10 billion in quarterly revenue for the first time ever."