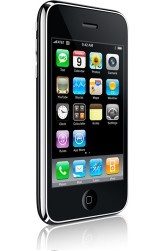 In December, rumors began flaring that
Apple
was planning an entry-level $99 USD iPhone for Wal-Mart
, one that would look the same as the current models but have fewer features and a cheaper data plan.
Thanks to RBC Capital Markets analyst Mike Abramsky, those rumors are back in the news today as Abramsky says the phone is definitely coming, and should be introduced in June or July.
"Checks reveal further entry-level iPhone details, including entry-level pricing,"
Abramsky said in his
report
.
"Also expected is a 3G iPhone performance upgrade."
The cheaper model will have 3G capabilities stripped but will still include Wi-Fi and Bluetooth, just like its more expensive brothers.
How can Apple afford to drop the price so much?
"We estimate the entry level iPhone would cost $195 to $225 to manufacture, vs. the iPhone 3G at $300,"
noted Abramsky.
The current iPhone data plan, which gives users unlimited Internet access, costs $30 a month but the $99 iPhone would include a "light data plan" at $15 a month, with restricted access.