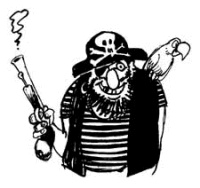 Earlier this morning Alex Curtis at the Public Knowledge website was
calling attention
to the latest attempt to sneak a provision directly from the copyright lobby into a bill. Senator Feinstein, who predictably represents California, proposed an addition to the economic stimulus plan being rushed through Congress. Her amendment would declare ISP monitoring of all web traffic for copyright violations to be reasonable network management.
This would open the door for the so-called three strikes rules record labels and movie studios are anxious to see implemented. Their plan is to convince ISPs to disconnect users based on traffic monitoring data, avoiding expensive lawsuits they can't seem to win when challenged in court.

It would also have an unprecedented effect on the privacy of US citizens. Technological differences aside, it would be similar to letting a private company open all your mail, listen in on all your phone calls, and follow you around recording everything you say or do - even in private settings.

And even if there weren't serious legal and ethical questions it's simply not possible to tell the difference between copyright infringement and fair use this way. Just because the use of a work isn't authorized by the copyright holder doesn't automatically make it infringement.

For now the bill has been passed by both houses of Congress without the amendment, but it's still possible for it to be added at the last minute behind closed doors in the conference session between the Senate and House of Representatives.