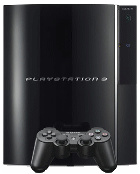 According to a new note from
Janco Partners'
Mike Hickey, a
Sony PlayStation 3
price cut is coming this week, one that should shave $100 USD off the current retail price of the gaming console.
"Recent channel checks indicate increased speculation for a PS3 price cut announcement from Sony in the next couple of days,"
says Hickey.
"We think the company needs to reduce the current price by USD 100 to effectively restart unit velocity at retail. We believe the market is expecting a PS3 price cut in April or by June at the latest."
Hickey also added that if the price cut does not come, the console will continue to see stagnant sales and possibly abandonment by publishers.

"If Sony does not cut the price of their console, we expect the continuation of languishing PS3 hardware sales and the potential for publishers to accelerate their reallocation of resources away from the PS3 console."

Although highly unlikely, Hickey added there was the possibility of a PS3 unit that lacks a
Blu-ray
drive being brought to the market, at a much lower price point.
This point however, should be moot as a console with no Blu-ray drive would not be able to play current PS3 software, which is available on
Blu-ray discs
, not
DVDs
like the
Xbox 360
.


"We are also hearing continued speculation that Sony is working on a non-Blu-ray PS3 console, which could enable them to make the aforementioned hardware price reduction."