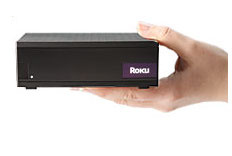 Earlier this month,
Roku began accepting requests for the beta of Amazon VOD support
through their digital video player and saw the slots fill up almost immediately.
Today, everyone with a Roku player has received support for Amazon's VOD service, allowing users to playback new movie releases that have been either been rented or purchased through Amazon. Amazon allows for full downloads to external storage hubs such as the
Apple TV
but also allows for
streaming
of movies and TV shows.
The new interface for Amazon is also updated as it lets users browse and purchase directly through the TV instead of having to set a queue seperately on a website, like has to be done with
Netflix
.
The Roku player remains priced at $99 USD but now eliminates the requirement that the user keep a Netflix subscription.