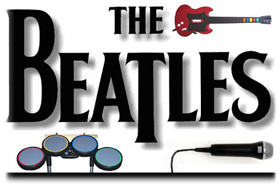 After confirming reports in October
that they will be collaborating on a "brand new videogame featuring the music of the iconic Beatles,"
The Beatles
,
MTV
and
Harmonix
have announced that
"The Beatles: Rock Band"
will hit retail shelves on September 9th.
The game will be available on that date in North America, Europe, Australia, New Zealand and will cost $60 USD for the game itself or $160 for new 'Rock Band' instruments similar to those used by the Beatles.
Apple Corp.
added that the date, 9/09/09, was picked specifically to acknowledge the importance of the number 9 for the band.
MTV
added
that the game will
"allow fans to pick up the guitar, bass, mic or drums and experience The Beatles extraordinary catalog of music through gameplay that takes players on a journey through the legacy and evolution of the band's legendary career."
The game will be available on all three major consoles at launch, the
Microsoft Xbox 360
, the
Sony Playstation 3
, and
Nintendo Wii
. As with previous Rock Band games, existing instruments will work flawlessly with the game.
The Beatles have sold more than 600 million albums worldwide but have never allowed their music to be available digitally.
Picture thanks to
IGN
.