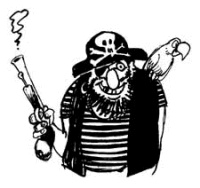 Alexander Skipis, head of the German book publishers' association, has announced that they publishers plan to launch a lawsuit campaign against file sharers.
Skipis said that they plan to sue "thousands" over copyright infringement and he even went as far as to call
P2P
file sharing "organized crime." Taking a job at the government, Skipis added that politicians were ignoring the huge impact piracy is having on the book industry.
In the past, hundreds of thousands of German citizens were sued over movie and music file sharing but last year the courts began ignoring any P2P-related complaints, eventually throwing them out. A new revision to German copyright laws was also intended to stop mass lawsuits campaigns from trade groups.
Skipis is also in favor of "three strikes" laws which would give alleged unauthorized file sharers two warnings before cutting off their Internet.