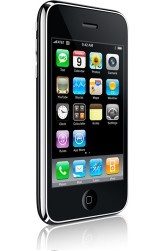 Beginning next week,
AT&T
will begin selling the popular
iPhone 3G
smartphone without contract, but at a large premium.
The 8GB model will sell for $599 USD and the 16GB version will sell for $699 USD. Currently, with a two-year new contract or upgrade, the phone costs $199 and $299 respectively.
Only current AT&T customers can purchase the no-contract iPhone however, leaving out other
GSM
users who were looking to pick up the phone. Another potential problem is that even if users purchase the phone to use with
T-Mobile
, they will only get voice and EDGE service, not the faster 3G data plan.
Although the unsubsidized price may seem high, it is about equal to what the original iPhone sold for without contract, and is in line with other non-subsidized smartphones from
Sony, Nokia
and
RIM
.