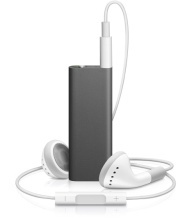 Prosecutors in Michigan have filed fraud charges against an
iPod
repairman who allegedly received over 9000 replacement iPod Shuffle devices by entering serial numbers into
Apple's
online web site. He then flipped the devices for full profit.
The man, Nicholas Woodhams, age 23, sold mostly all of the stolen iPods for $49 USD each, making over $400,000 USD profit.

"We've been cooperating with the government and are in the process of negotiating a resolution,"
said Woodhams' lawyer, Randall Levine.
"He is one of those guys who is computer-savvy. This is a very bright man who did not fully appreciate the seriousness of the situation."
The government is currently looking to seize all of Woodhams' assets, including two
cars
, a motorcycle, seven Mac computers and an undisclosed amount of cash, supposedly in the hundreds of thousands.
Being an independent iPod repairman, Woodhams had full knowledge that he could get free replacements if Shuffle devices were having problems.


"Through trial and error, the defendant determined that he could guess valid, warrantied serial numbers and enter them into Apple's Web site for 'replacement' units without ever in fact purchasing or possessing the 'original' units,"
Assistant U.S. Attorney Nils Kessler
added
.
When
Apple
did not receive the defective iPod in return, they would charge the credit card provided by the customer. Woodhams used credit cards that automatically rejected the transaction however.
An Apple spokesperson noted that the company was fully aware of Woodhams and had already filed a lawsuit in federal court in Grand Rapids last summer.