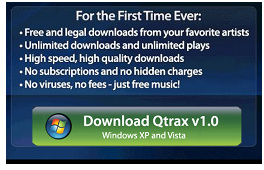 For many people Qtrax is probably still remembered as the free music service that
didn't launch
as promised last January because they didn't have the rights to offer any music. But with the
demise of SpiralFrog
last month it became the biggest name in label approved free music.
Yesterday they passed a major milestone by finally introducing the first full release version of their client software. Despite already having deals in place to offer music
from all the major labels
, their download client (based on the open source
Songbird
project) has remained in beta status. Today that changed as version 1.0 was released.
The new client doesn't offer any ground breaking new features. Like SpiralFrog did, it gives you access to music from the major labels that's free, but contains Microsoft
DRM
. You must be connected to the internet and using a Windows computer to play them.
Although Qtrax has claimed since last year that a Mac version, and even iPod support were on the way, they aren't making any promises about when either will be ready.
There's also no word on when Qtrax will be available outside the US, although that's slated for Qtrax version 1.1.